Listings with photos are in paid partnership with Observer Media Group.
MANATEE | SARASOTA | LAKEWOOD RANCH | BOTH COUNTIES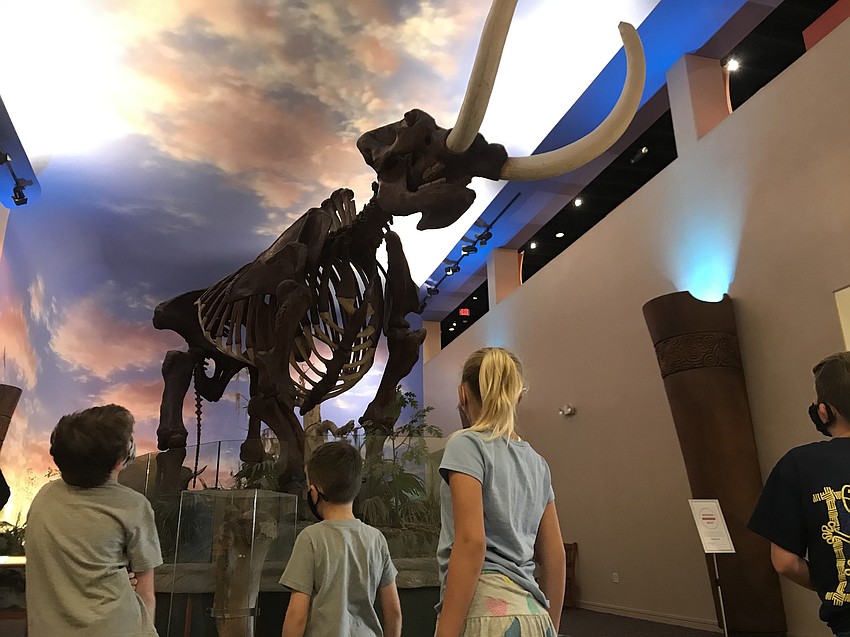 The Bishop Museum of Science and Nature Summer Science Camps
201 10th St. W. Bradenton
Details: Kids explore science and nature topics through games, crafts, experiments, investigations and more. Each week brings a different theme.
Camp dates: Weekly sessions 9:15 a.m. to 3:45 p.m., Elementary camps June 5-Aug. 4 (No camp July 3-7), Middle School camps June 19-23 and July 17-21
Tuition: $225 per week for members of the Discovery Society, $300 per week for others. Scholarships available. 
Ages: 7-14
Contact: 941-746-4131 ext. 145; [email protected]; BishopScience.org/science-camp; Click here to register!
---

---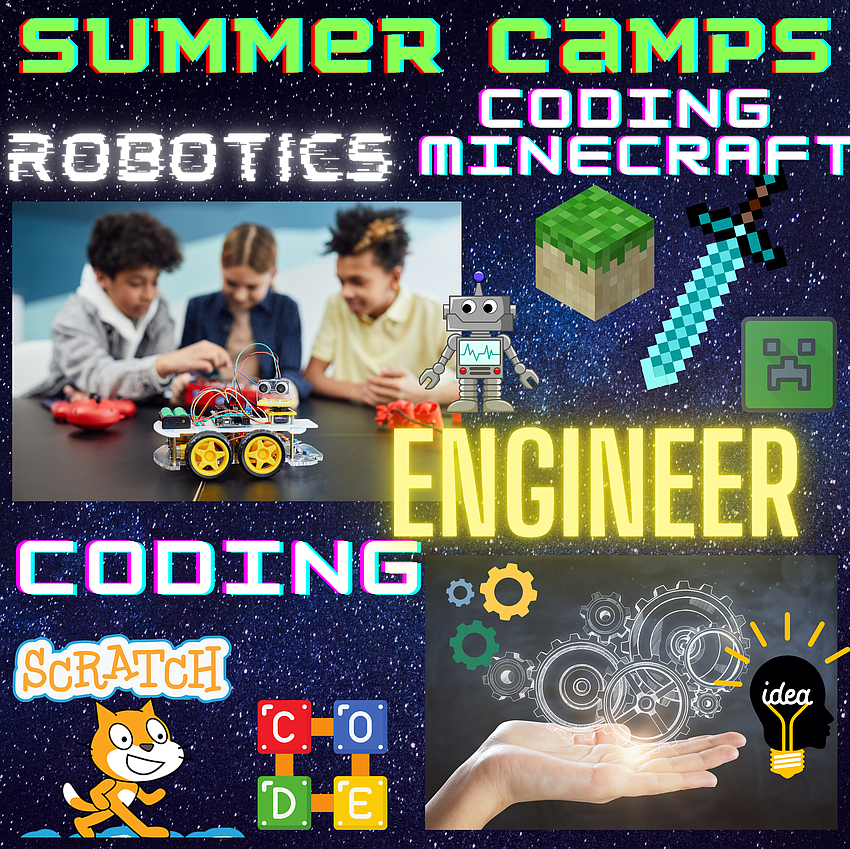 STEAM Kids of the Future
Braden River Middle School, Room 605, 6215 River Club Blvd., Bradenton
Details: Campers will learn about coding, 3D printing, robotics and more while working on hands-on projects. Each week will have a different theme.
Camp dates: 9 a.m. to 3 p.m. June 5-9, June 12-16, June 19-23, July 24-28
Tuition: $299
Ages: Entering grades 4-6
Contact: STEAMKidsOfTheFuture.org; Click here to register!
---
LECOM Bradenton Medical Science Academy 
Lake Erie College of Osteopathic Medicine, 5000 Lakewood Ranch Blvd., Bradenton
Details: High School Students will participate in LECOM's problem-based learning method under the direction of LECOM medical students as well as formal lecture-based presentations provided by LECOM faculty. Activities include hands-on laboratory experiments, basic first aid training, CPR training and Stop the Bleed training. Family night is at 5:30 p.m. May 16.
Camp dates: 8 a.m. to 4:30 p.m. June 5-9 and from either 9 a.m. to noon or 1-4 p.m. June 12-15; Graduation is on June 16th from 11 a.m. to 1:30 p.m.
Registration: Open to the first 40 students who register and pay. tinyurl.com/MSARegistrationForm
Tuition: $275 registration fee 
Ages: Entering grades 9-12
Contact: 782-5758 or [email protected]
Junior Ranchers
Lakewood Ranch High School, 5500 Lakewood Ranch Blvd., Lakewood Ranch
Details: This is an agriculture camp that teaches campers about plant science, animal science, environmental science, marine biology and leadership.
Camp dates: 8:30 a.m. to 3 p.m. June 26-29
Tuition: $200
Ages: Grades 3-5
Contact: 727-6100
Marie Selby Botanical Gardens Camp Lookout
1534 Mound St., Sarasota (Downtown Sarasota campus); 337 N. Tamiami Trail, Osprey (Historic Spanish Point campus)
Details: This camp is designed for nature lovers. Each week is packed with plenty of time in the great outdoors, wading in the waters and exploring the forests of Selby Gardens' two campuses.
Camp dates: 9 a.m. to 3 p.m. June 5-16 at the Downtown Sarasota campus and June 19-30 at the Historic Spanish Point campus.
Tuition: $230 per week for Selby Gardens members; $250 per week for nonmembers
Ages: Entering grades 1-5
Contact: [email protected]; Selby.org
Mote Marine Laboratory & Aquarium
1600 Ken Thompson Parkway, Sarasota
Aqua Kids: Exploring Ecosystems
Details: Through interactive STEM activities, campers will learn how different ecosystems work by exploring coral reefs, seagrasses and the open ocean.
Camp dates: 8 a.m. to noon June 5-9, June 19-23, July 3-7, July 17-21 and July 31- Aug. 4
Tuition: Weekly rate of $270 for members, $300 for nonmembers
Ages: 8-10
Contact: 388-4441 or [email protected]
Aqua Kids: Bizarre Bottom Dwellers
Details: Campers explore animals in the depths of the ocean with hands-on science activities, animal encounters and water adventures.
Camp dates: 8 a.m. to noon June 12-16, June 26-30, July 10-14 and July 24-28
Tuition: Weekly rate of $270 for members, $300 for nonmembers
Ages: 8-10
Contact: 388-4441 or [email protected]
Aqua Kids: Into the Unknown
Details: Participants learn about careers in space and in the sea, as well as the connections between the two fields. The afternoon camp includes STEM and field activities, learning about technology used in both sea and space exploration, and discovering research programs at Mote.
Camp dates: 1-5 p.m. June 5-9, June 19-23, July 17-21 and July 31- Aug. 4
Tuition: Weekly rate of $270 for members, $300 for nonmembers
Ages: 8-10
Contact: 388-4441 or [email protected]
Aqua Kids: Coding for the Future
Details: The camp dives into how code can solve threats currently facing marine ecosystems. Campers learn basic coding skills to create animations, cartoons and interactive games.
Camp dates: 1-5 p.m. June 12-16, June 26-30, July 10-14 and July 24-28
Tuition: $270 per week for members, $300 per week for nonmembers
Ages: 8-10
Contact: 388-4441 or [email protected]
Sea Sleuths Keys: Salty Superheroes
Details: Campers will take on hands-on projects, experiments and water activities while exploring leaders in the marine science community. Water activities include snorkeling and kayaking. Camp dates: 8 a.m. to noon June 5-9, June 19-23, July 3-7, July 17-21 and July 31- Aug. 4
Tuition: $270 for members, $300 for nonmembers, plus scuba fees.
Ages: 11-13
Contact: 388-4441 or [email protected]
Sea Sleuths: Alien Invasion
Details: Campers will learn about real-world threats to water through exploration, snorkeling and kayaking.
Camp dates: 8 a.m. to noon June 12-16, June 26-30, July 10-14 and July 24-28
Tuition: $270 for members, $300 for nonmembers
Ages: 11-13
Contact: 388-4441 or [email protected]
Sea Sleuths: Exploring Marine Careers
Details: Explore careers in marine science by meeting Mote scientists, aquarium biologists and animal trainers. Campers will be able to meet resident animals and participate in training sessions. Camp dates: 1-5 p.m. June 5-9, June 19-23, July 17-21 and July 31- Aug. 4
Tuition: $270 per week for members, $300 per week for nonmembers
Ages: 11-13
Contact: 388-4441 or [email protected]
Sea Sleuths: Conservation Through Digital Media
Details: Campers will design their own campaign to save an animal while learning about ocean conservation. They will learn different forms of media including videos, music, podcasts, virtual reality and digital art. Camp dates: 1-5 p.m. June 12-16, June 26-30, July 10-14 and July 24-28
Tuition: $270 per week for members, $300 per week for nonmembers
Ages: 11-13
Contact: 388-4441 or [email protected]
Tidal Tykes: Habitat Hoppers
Details: This camp includes a week of ocean home hunting. Campers will learn about ocean animals' homes and hideaways through STEM and field activities. Campers will explore Mote Aquarium, the Mammal Center and Sarasota Bay to discover animal habitats. Camp dates: 8 a.m. to noon June 5-9, June 19-23, July 3-7, July 17-21 and July 31- Aug.4
Tuition: Weekly rate of $270 for members, $300 for nonmembers
Ages: 5-7
Contact: 388-4441 or [email protected]
Tidal Tykes: We Are Family
Details: This camp will have participants exploring familial bonds in marine ecosystems through STEAM activities. Campers will meet aquatic families as they explore Mote Aquarium, the Mammal Center and Sarasota Bay. Camp dates: 8 a.m. to noon June 12-16, June 26-30, July 10-14 and July 24-28
Tuition: Weekly rate of $270 for members, $300 for nonmembers
Ages: 5-7
Contact: 388-4441 or [email protected]
The Out-of-Door Academy
The Out-of-Door Academy, Uihlein Campus, 5950 Deer Drive, Sarasota; Siesta Key Campus, 444 Reid St., Sarasota
Chemistry Lab
Both Uihlein and Siesta Key campuses
Details: This camp includes hands-on lessons developed with three interactive exercises by real chemists. Exercises include "Hogwarts School of Witchcraft and Wizardry" with water, ice and fire spells, Chemistry Building Blocks, Mad Science Lab, Chemistry Careers and CSI Crime Scene Forensic Lab Investigation.
Camp dates: 9 a.m. to 3 p.m. July 10-14 (Extended care 8-9 a.m. and 3-5 p.m.)
Tuition: $390 per full-day session (Lunch included, Extended care $50 per week) 
Ages: Entering grades 1-6 (campers split into lower and upper elementary groups)
Contact: 444-6965, [email protected], or ODA.edu
Cyber Camp
Uihlein Campus
Details: This camp includes hands-on lessons developed with three interactive exercises by IT specialists, computer scientists and engineers. The week will include becoming a YouTuber, stop motion animation, game and app creation and development, computing in space as well as computer science, engineering, history and future of computing.
Camp dates: 9 a.m. to 3 p.m. July 10-14, July 17-21 (Extended care available from 8-9 a.m. and 3-5 p.m.)
Tuition: $465 per full-day session (Lunch included; Extended care for $50 per week)
Ages: Entering grades 5-9
Contact: 444-6965, [email protected], or ODA.edu
Hackerbox Camp
Uihlein Campus
Details: This camp includes hands-on lessons developed with three interactive exercises by IT specialists, computer scientists and engineers. Participants will design and code through a series of hacker challenges using electronics, programming and computer technology. On the final day of camp, participants will create their own design and coding.
Camp dates: 9 a.m. to 3 p.m. June 19-23, June 26-30 (Extended care available from 8-9 a.m. and 3-5 p.m.)
Tuition: $465 per full-day session (Lunch included; Extended care for $50 per week)
Ages: Entering grades 5-9
Contact: 444-6965, [email protected], or ODA.edu
Lego Coding and Robotics 
Uihlein Campus
Details: This camp includes hands-on lessons developed with three interactive exercises by IT specialists, computer scientists and engineers. Participants will become a Lego Master through STEM challenges, quick fires and twists while also learning how to design like a Lego Master with Lego Designer and Lego Digital Design Series. Participants will explore, challenge, innovate, develop, design, build and code using Lego Programming and Robotics with Mindstorms.
Camp dates: 9 a.m. to 3 p.m. June 19-23, June 26-23, July 17-21 (Extended care available from 8-9 a.m. and 3-5 p.m.)
Tuition: $465 per full-day session (Lunch included; Extended care is available for $50 per week)
Ages: Entering grades 5-9
Contact: 444-6965, [email protected], or ODA.edu
LEGOMania 
Both Uihlein and Siesta Key campuses
Details: This camp involves hands-on lessons developed with three interactive exercises by STEMania Teachers at ODA. Students can Become a Lego Master through STEM challenges, quick fires and twists as they explore, challenge, innovate, develop, design, build and code using Lego programming and robotics with WeDo.
Camp dates: 9 a.m. to 3 p.m. June 26-30 (Extended care 8-9 a.m. and 3-5 p.m.)
Tuition: $390 per full-day session (Lunch included; Extended care is $50 per week)
Ages: Entering grades 1-4
Contact: 444-6965, [email protected], or ODA.edu
Robotek Camp
Uihlein Campus
Details: This camp includes hands-on lessons developed with three interactive exercises by IT specialists, computer scientists and engineers. Lessons include Inside the Bots (robot mechanics), Fun Bots (amusement parks, etc.), Building Bots (Star Wars droids, etc.), Battle of the Bots (submarines, naval bases, etc.), and Computer Bots (chat bots and virtual assistants.
Camp dates: 9 a.m. to 3 p.m. June 12-16 (Extended care 8-9 a.m. and 3-5 p.m.)
Tuition: $465 per full-day session (Lunch included; Extended care is $50 per week)
Ages: Entering grades 5-9
Contact: 444-6965, [email protected], or ODA.edu
Space Camp
Both Uihlein and Siesta Key campuses
Details: This camp includes hands-on lessons developed with three interactive exercises by a real aeronautical and astronautical engineer. Lessons include Solar System, Space X Rocket Challenge, Space Careers, Mission Mars and Life in Space and Space Technology.
Camp dates: 9 a.m. to 3 p.m. July 17-21 (Extended care 8-9 a.m. and 3-5 p.m.)
Tuition: $390 per full-day session (Lunch included; Extended care $50 per week) 
Ages: Entering grades 1-6 (campers split into lower and upper elementary groups)
Contact: 444-6965, [email protected], or ODA.edu
STEMania Explorers 
Both Uihlein and Siesta Key campuses
Details: This camp includes hands-on lessons developed with three interactive exercises by a real med tech executive, registered nurse, biologist and reptile breeder. Lessons include STEM Survivors (natural disasters), STEM Designers (balloonatics, biomedical engineering, etc.), STEM Adventures (mountaineers, physics of extreme sports, etc.), and STEM LEGOMasters.
Camp dates: 9 a.m. to 3 p.m., June 19-23 (Extended care from 8-9 a.m. and 3-5 p.m.)
Tuition: $390 per full-day session (Lunch included; Extended care is $50 per week)
Ages: Entering grades 1-6
Contact: 444-6965, [email protected], or ODA.edu
Vex Coding & Robotics 
Uihlein Campus
Details: This camp includes hands-on lessons developed with three interactive exercises by IT specialists, computer scientists and engineers. Participants complete Vex Code IQ Stem Lab Challenges including Learn Block, Python and C++. Participants also compete in a teamwork and robot skills challenge to show their driving and programming skills.
Camp dates: 9 a.m. to 3 p.m. June 19-23, June 26-23, July 10-14, July 17-21
Tuition: $465 per full-day session (Lunch included)
Ages: Entering Grades 5-9
Contact: 444-6965, [email protected], or ODA.edu
Sarasota County Parks & Recreation
Lemon Bay Park, 570 Bay Park Blvd., Englewood and Shamrock Park and Nature Center, 3900 Shamrock Drive, Venice
Creepy, Crawly Critter Camp
Shamrock Park and Nature Center
Details: Want to know more about bugs, snakes, owls and other critters? This camp explores all the gooey details including where they live, what they eat and how they are identified.
Camp dates: 9 a.m. to noon July 10-14
Tuition: $100
Ages: 6-9
Contact: 861-7275 or [email protected]
Marine Explorers Camp
Lemon Bay Park (meeting room)
Details: Campers will explore the field of marine conservation and science.
Camp dates: 8 a.m. to noon July 24-28
Tuition: $100
Ages: 8-11
Contact: 861-7275
Suncoast Science Center Faulhaber Fab Lab
4452 Beneva Road, Sarasota
Details: Campers will enjoy weeklong themes including "Biology," "Robotics," "Coding and Game Design," "Machine Madness", "Forensics" and "Engineering."
Camp dates: 8:30 a.m. to 12:30 p.m. June 5-July 28
Tuition: Most camps are $200-250
Ages: Entering Grades 2-8
Contact: 840-4394 or [email protected]
4-H Exploring Your Environment Camp
Twin Lakes Park, 6700 Clark Road, Sarasota
Details: This 4-H curriculum-focused camp gives youth an opportunity to learn about earth ecosystem services and capacity. Campers will go on field visits to natural areas around Sarasota County, make scientific inquiries and observations and get hands-on learning and experience in environmental science and education.
Camp dates: 9 a.m. to 4 p.m. June 19-23 and June 26-30. Extended care available for an additional fee.
Tuition: $200 per week
Ages: 10-14
Contact: 861-9833 or [email protected]