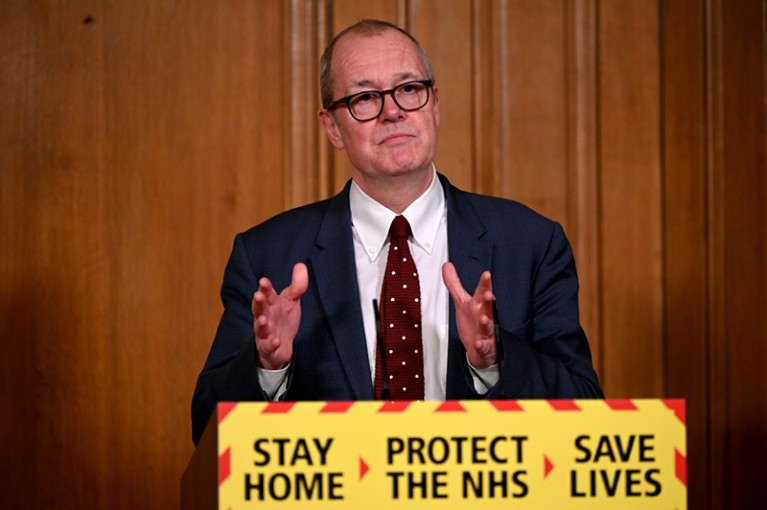 Patrick Vallance has come to the end of his five-year tenure as chief scientific adviser to the UK government, during which he oversaw the unprecedented science response to the COVID pandemic.
Before coming to government, Vallance spent most of his career in academia as a medical researcher focusing on vascular biology, and 11 years in industry, including as head of research and development at the UK pharmaceutical giant GSK.
During the COVID pandemic, he was thrust into UK living rooms to give daily televised updates to the nation, and was charged with providing scientific advice that would guide the country's COVID policy. One of his next roles will be as chair of the board of directors of the Natural History Museum in London.
Nature caught up with Vallance to reflect on his time in office.
When you were appointed in 2017, Brexit was going to be the major issue for the science adviser and it didn't shake out that way. How have the past few years been?
Two-and-a-half years were completely taken up with COVID. We did lots of other things but it dominated my day-to-day activities.
Before I came in, I said I wanted to make sure was that we got science and engineering as embedded across government as we possibly could. Every government department needs a really strong, externally appointed chief scientific adviser, because that individual is the link between the inside and the outside.
If you want the role of the government chief scientific adviser to be influential, you can't do it on your own. So the fact that we've got an effective network of chief scientific advisers across every department is really important.
How was your COVID experience?
It was all-consuming and it showed the importance of having a very strong science base in the United Kingdom. My job was made easier by the fact that I could call on experts from academia and industry. We could get people around the table quickly. That was crucial during things like setting up the vaccines task force.
In areas where it was possible to move quickly, such as genotyping of the virus, where the United Kingdom got off to a good start, it was in part because the infrastructure already existed. It was possible to get vaccines moving because we had good academic research, but also we had big companies that knew how to turn things into industrial products. We were less well served on the scaling up of testing because we didn't have a big diagnostics industry.
Do you think that the response to COVID will have a knock-on effect across medicine?
If you look at what happened with the trials during COVID, the RECOVERY trial was fantastic because it was big enough to get proper answers. Around the world there were thousands of studies that were too small. That's a wasted resource. At the peak of the pandemic, something like 12% of patients in UK hospitals with COVID were in the RECOVERY study — that's remarkable. There's definitely a lesson about how the acceleration of getting answers can be embedded in everyday practice.
What was the United Kingdom's worst pandemic moment, and its best?
When you see people going into hospital, hospitals overflowing, hear the stories of the tragedy that occurred, that can't feel anything other than absolutely awful.
The highlights were the moment we knew something worked, like the drug dexamethasone from the RECOVERY trial, and the moment we got the first readout from the vaccine study that showed it had more than 90% efficacy. That was much, much more than people had even dared hoped for.
The other lesson I've learned is that, often, the louder the voices, the lower the evidence base. During COVID the things that became most contentious and where people had extremely strong views and policy opinions were the ones where the evidence base was weakest. You can see that in the initial uncertainty around facemasks and other areas.
Did politicians listen to your advice?
There are four things that a science adviser needs to ask themselves. First, is the evidence base adequate and, if not, what needs to be done? Second, has the advice been understood? That's really key. It's not only about whether you delivered it. And you need to think about how you would assure yourself that it had been understood.
Point three is: has the science advice being given in a form that is relevant to policy consideration, and what do policymakers need to understand to formulate policy? It's not easy.
The fourth area is to make sure that the role of science in monitoring the policy impact has also been thought through. That's obviously really critical when you think about things like climate. When you make policy decisions, how are you going to know you're actually headed in the right direction?
What does Brexit mean for UK science?
I'll be absolutely clear about this: science is global. It's international — we need to have extremely strong links to other countries. We have historically had those links. And it's important that we not only maintain those, but we continue to grow them. Many more countries are becoming able to do science and engineering at a high level. We need to keep those links.
I've been very clear that I believe that the UK being part of the European Union's Horizon Europe programme is important. It's been a system that's taken a long time to get running. It runs very well. It provides good links across Europe, and it provides a scale which is not possible on your own.
What has it been like working with politicians?
The biggest thing coming into government and working with politicians is to try to understand exactly what it is that enables politicians to listen to science advice, because it's usually not top of their mind. We need to recognize that although we find it all fascinating, not everyone does. And therefore you need to win people over.
An early briefing on climate with three or four of us in the room and the prime minister at the time, Boris Johnson, was instrumental in him changing his mind about what he wanted to prioritize. He wanted to prioritize climate after that. It wasn't because we were campaigning, it was because we were neutrally showing him factual graphs about what was going on and help him make sure he understood that. That's really what we need to do and not get dragged into political opinion or policy opinion.
And if I've got one piece of advice for any science adviser, it's stick to the science.
If after a meeting like that the prime minister is not persuaded, have you failed as an adviser?
You failed as an adviser if they haven't understood it. If they really understood it, and chosen to make a different decision, that seems to me that that is the democratic process. I fundamentally and strongly believe in democracy.