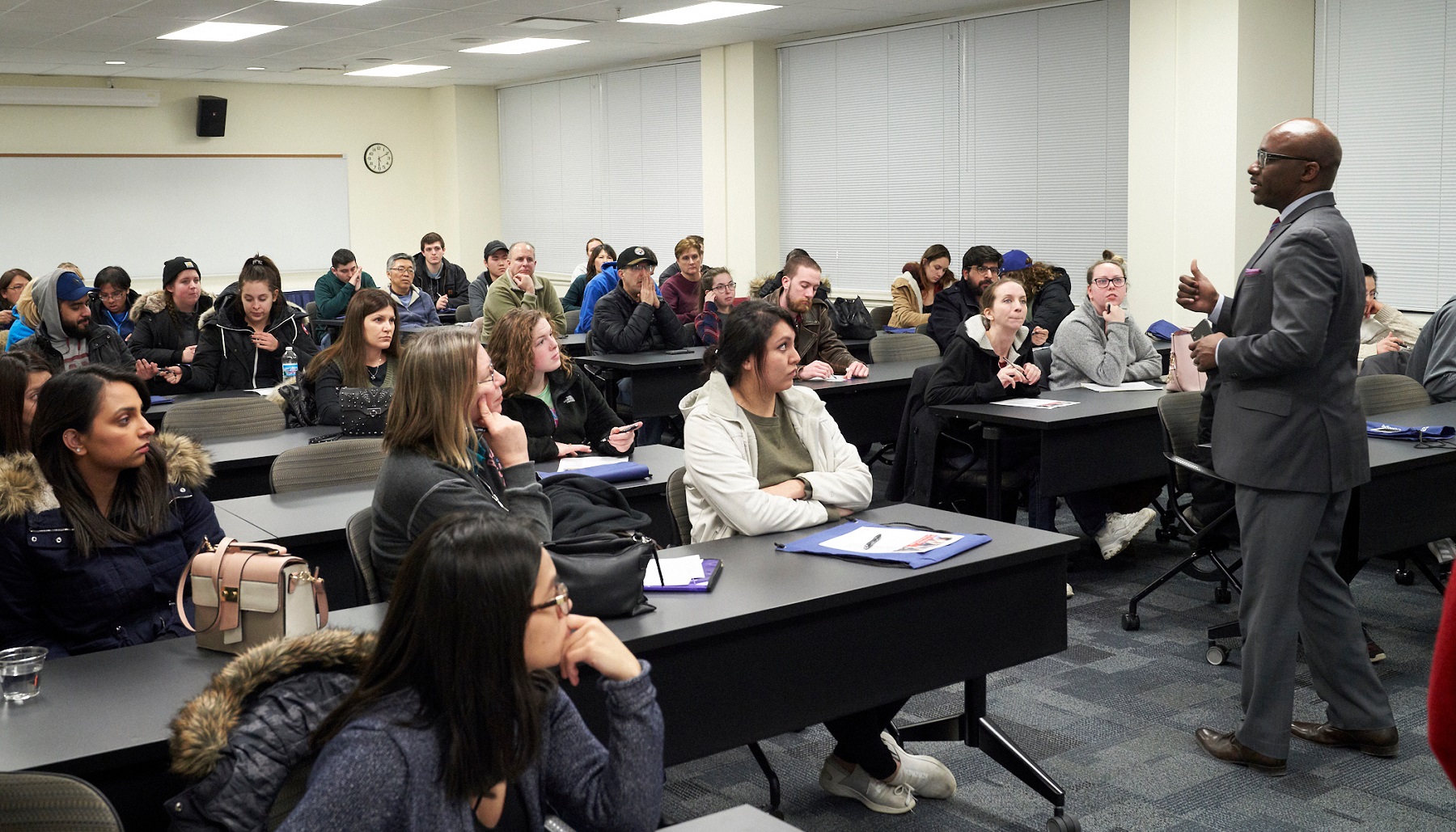 Harper College students and community members who want to earn four-year degrees have
more choices to do so at the Palatine campus, along with a new opportunity to earn
an MBA, thanks to a partnership with Roosevelt University.
The University Center at Harper College partners with four universities – Roosevelt, DePaul University,
Northern Illinois University and Southern Illinois University – to offer a variety
of bachelor's degree completion programs.
Starting in the fall, two new bachelor's degrees will be added – graphic design and
human resources management – along with the MBA program, the center's first graduate-level
degree offered by Roosevelt University.
The goal is to meet the needs of students as they enter the job market, said Bob Parzy,
associate provost for enrollment services at Harper.
"We look at it from the perspective of what would be something sustainable, that employers
value, and that students and partners want," he said. "People are excited about the
direction this is going in."
To enroll in the bachelor's degree completion programs through the University Center,
students must meet the admissions criteria for the partner universities.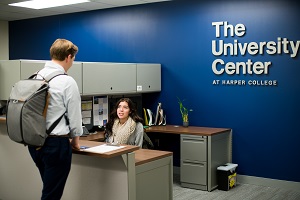 Harper students take about 60 semester credit hours for their associate degree, and
about 60 semester credit hours of university courses to earn a bachelor's degree.
The classes are taught by university faculty, or by Harper faculty hired as adjunct
instructors by the partner universities.
The programs also are open to community members who have an associate degree from
other community colleges, as well as community members who have taken 60 credit hours'
worth of classes at a four-year institution but haven't earned a degree, said Agnes
Szemborski, manager of the University Center and transfer partnerships.
There are great advantages to earning a four-year degree from the university partners
through the University Center, rather than enrolling as regular university students:
saving on tuition; cutting travel expenses such as gas, parking and public transportation;
and remaining in a familiar environment, Szemborski said.
"Our students are loving the experience – being close to home and being able to take
classes on site through our partnerships," she said.
Tuition rates vary by partner. DePaul and Roosevelt offer special tuition rates for
University Center students.
"One of the goals was to keep the cost down for our students," Parzy said. "It's a
pretty affordable bachelor's degree, when it's all said and done."
After starting in 2018 with 13 students, the University Center has grown steadily
over the years. More than 600 students are enrolled in four-year programs and more
than 150 have graduated with bachelor's degrees.
"It has exceeded our expectations," Parzy said, adding the University Center has "great
partners" in the four universities. "It's not just an extension campus, it's an extension
of who (the universities) are."
Such partnerships are vital, said Erica Poremba, executive director of academic partnerships
at Roosevelt University.
"We are committed to serving students at Harper's University Center and the community.
Our partnership is a great one," she said, "one in which we align programs, student
needs and are always focusing on future needs."
Most bachelor's degree programs through the University Center are available part-time
and full-time, with an average 90% course completion rate, Parzy said.
The MBA program, at $39,270 for 33 credit hours, also will be available part-time
and full-time.
"The success rate is very strong and people are graduating. It's all coming together
the way we wanted it to and, more importantly, students are succeeding," he said.
The University Center helps students align their credits and figure out how to most
efficiently get into the program they want. The coursework has virtual components,
but at least 50% is done on site at the Palatine campus. "If you want to do something
100% online, the University Center is not what you need," Parzy said.
The University Center's partnership with Roosevelt also features degrees in criminal
justice, elementary education and health science administration.
The partnership with DePaul offers degrees in business administration, and communication
and media; the partnership with NIU offers degrees in computer science, marketing
and psychology; and the partnership with SIU offers degrees in accounting and public
safety management.
The University Center has begun to have conversations with its university partners
to eventually offer STEM – science, technology, engineering and math – programs, Szemborski
said. At some point in the future, there might even be a doctorate program, according
to Parzy.
"It depends on what our students want to see," Parzy said. "We are going to evolve
as the market evolves."
Now housed in Building D on the Harper campus, the University Center will move into
the new Canning Center when construction is complete in 2026.
Interested students and community members can find out about informational sessions
and more at harpercollege.edu/university.